We get asked this question quite frequently and the answer is no, but it is very helpful. There are no emotional support dog laws or regulations which state that you must clearly identify your ESA as an assistance animal or register your emotional support dog, and although it is not required for your animal to wear an Emotional Support Dog Vest, it is highly recommended.
We recommend that your assistance animal be readily and easily distinguishable as being more than just a pet, particularly when flying.
Many airlines suggest the same.
Having your animal wear a brightly-colored ESA vest can help assist airline personnel, landlords, and everyone else that your ESA is more than just a pet.
Additionally, we recommend putting something on your animal's ESA vest which says "do not pet" or "working dog" because most people simply do not know better.
Having random people constantly come up to pet your animal can be distracting for your ESA and can lessen its ability to mitigate the symptoms of your disability.
Measuring your Emotional Support Dog for a Vest
The first thing you need to do is accurately measure your dog. The following chart was made by our friends at Companion Animals is an aid for you to make sure that you order the correct size dog vest.
To properly measure your dog for an emotional support vest, take a flexible tape measure and place it around his girth – that is just behind the front legs and around his body, making sure you going underneath him or her at the widest part of its rib cage. Once you measure the dog for the first time, do it again to make sure the size of the ESA vest is the correct one for your dog, especially for a small dog.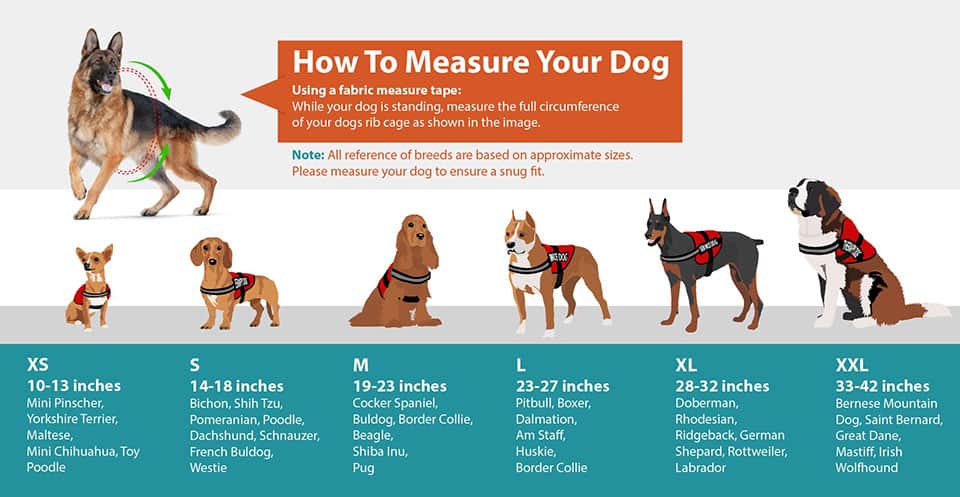 Fabric Choice
Vests come in many fabrics and there are no regulations governing them. For dogs working in hot and humid climates, it is a good idea to choose a mesh vest. For other areas of the country use a vest made of cotton or another breathable fabric – avoid synthetics as they may be less comfortable for your dog.
Style
The four most popular styles of  ESA vest are:
Padded vests – these vests usually have a handle on them for outdoors walking. Their weight approximates that of a lightweight winter jacket for people.
Light-weight cotton vests – perfect for your emotional support dog to wear throughout the year. Some come with pockets or an ID holder.
Mesh vests – great for dogs outdoors in warm weather.
Backpack vests – good for someone like a student who has lots of books to carry about.
You can purchase any style of emotional support dog vest on Amazon or eBay.
What do you need in addition to the vest?
Now that you have measured your furry friend and are ready to buy a vest, just remember that a person who is assisted by an emotional support animal must have an emotional support animal recommendation letter from a licensed mental health professional.
The ESA letter must state that the animal's handler has an emotional or mental disability identified in the DSM V and that the animal helps mitigate specific symptoms of the handler's disability.
Do you qualify for an ESA?
You can take our online pre-screening to see if you qualify for an emotional support animal. The survey only takes a few minutes and is 100% free.