An emotional support animal (ESA) makes the life of someone with a mental health problem much better. These animals are there to offer love and companionship to their owners. In order to become an ESA owner, you need a letter from a licensed mental health professional (LMHP). Unfortunately, there are many scammers online looking to trick people. Offering a free emotional support animal letter is one of the biggest scams out there!
The Only Way an ESA Letter Can Be "Free" Is If You Already Have a LMHP
There is only one instance in which an ESA letter will be free: if you already see a licensed mental health professional (LMHP). A therapist you are seeing can issue your ESA letter at no added charge.
If you find a free emotional support animal letter online, know that it is not legally binding. It has just as much value as a blank piece of paper!
Emotional Support Animals: Cats and Dogs with Jobs
An emotional support animal is an assistance animal. This means they have an important job to do. Their main goal is to make their owners the happiest they can. They're given to a person who has a mental disability, such as post-traumatic stress disorder (PTSD) or anxiety.
Dealing with a mental illness isn't easy, but ESAs make sure to ease the burden of living with one!
Notice how an ESA is not considered a pet? This means they have special rights a pet doesn't. More on this in a bit.
A service dog is professionally trained to help a disabled person in their day-to-day routine. Think of guide dogs, for instance. Psychiatric service animals, for example, remind their owners to take their medication on time.
ESAs only need an official letter signed by a licensed therapist. A free emotional support animal letter proves nothing. It erases all your ESA's rights.
What Is an Emotional Support Animal Letter?
An emotional support animal letter is what tells a pet apart from an ESA. In a nutshell, it's what ensures your furry companion is treated as an assistance animal. Thus, this letter gives your ESA its rights.
Notice that they are worlds different from a free emotional support animal letter! A legitimate ESA letter has to be issued by a real licensed mental health counselor.
An Emotional Support Dog (aka ESA Dog) Has Legal Protection!
The best part about having an ESA is that there are 2 federal laws that protect them. They're concerned with travel and housing. To put it simply, an emotional support dog has the right to fly and live with their owner. They have to also be provided with reasonable accommodation in rented houses or apartments. There is no added cost for an ESA — forget those pet fees and a pet deposit!
In the United States, the Fair Housing Act (FHA)and the Air Carrier Access Act (ACAA) are on their side. A landlord and an airline have to take in ESAs in rented housing and on flights. Look at these laws before getting an ESA.
In Canada, the Aircraft Accessibility Act for Persons with Disabilities regulates travel. It is a federal law spanning the whole country. When it comes to housing, each province has its own laws. Read up on the Canadian ESA laws if you are thinking of getting an emotional support animal in Canada.
A Look at the Law: Why Emotional Support Dog Registration Isn't Legally Binding
There's a very good reason why an emotional support animal registration is bogus. Individuals with disabilities have the right to privacy. So, nobody can force them to announce their disability to anyone.
Thus, emotional support dog registration is totally illegal. Think about it, what if you want to keep your privacy and not announce your mental and emotional disability to the world? Should you not have rights?
The Individuals with Disabilities Act (IDA), the Rehabilitation Act, and many more laws agree with the right to an individual's privacy. They are here to protect your rights — including your right to privacy!
ESA Registration Debunked: How Fake Online "Legitimate" Support Animal Registration Fraudsters Operate
Many (fraudulent) websites use the words "legitimate," "official," and "federal" in their name to trick people. Don't be fooled, what they do is 100% not legal.
These fraudsters will tell you that you can print your ESA letter today. No questions asked, no talking to a medical professional. That's how you know that they are fake. No matter if it is a paid or free emotional support animal letter, it has no legal value.
Unfortunately, these scammers prey on vulnerable people who desperately want an ESA to better their lives. It is not only unethical, but it is also a crime!
Did you know that a free emotional support animal letter comes with a hefty price tag? In the United States and Canada, showing a fake ESA letter is a crime. If you're found doing it, you can be fined or even get jail time!
I Need a Doctor! Ask a Doctor with a License, Not "Doctor Google"
Sometimes, a medical professional can issue an ESA letter. Only doctors who actually practice may do this. "Doctor Google" may not.
Talk to your physician about getting an ESA doctor's note. They'll know what to do.
There Really Is No Such Thing as an Online Free Emotional Support Animal Letter!
As you know by now, a free emotional support animal letter simply does not exist. Sure, you can find one online, but it's worthless. It has no legal value and can even go so far as to land you in jail or make you shell out thousands of dollars in a fine! There are some sites that offer free ESA letter templates, but make sure you have a mental health professional fill it out.
Who Can Write an ESA Letter?
There are only two kinds of people who can write an ESA letter: a licensed mental health professional, and a trained licensed doctor.
When you get an ESA letter issued by them you will see their license number and contact information on the document. These are very useful if your landlord or airline want to check whether the letter is legit. A free emotional support animal letter would never have this information.
How to Get an Emotional Support Animal Letter Through CertaPet
With so many scammy websites out there, CertaPet strives to offer a trust-worthy service. When you start the process of getting an ESA letter, you know you're in good hands. Our network of licensed mental health professionals covers all 50 states and is going to reach Canada soon.
We comply with all the regulations and make the application process easy and transparent. What else could you wish for?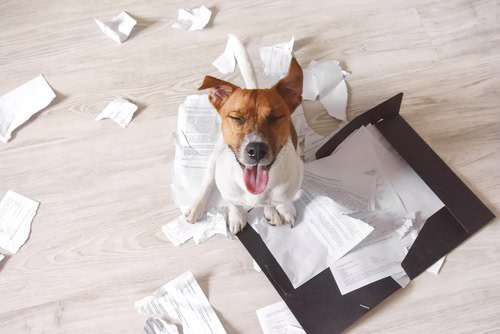 You CAN Take a Free, Pre-Screening to See if You Qualify for an ESA!
Are you ready to become an ESA owner? If so, you have come to the right place. You can start the process form the comfort of your own home by taking our free 5-minute pre-screening.
Once we process your answers, we will connect you to a licensed mental health professional. They will be the ones assessing your mental state. If you're eligible to become an ESA owner, they will write you your emotional support animal letter in less than a week!
Nothing in Life is Free, Especially Not an ESA Letter!
With something as important as an ESA letter, there is no cutting corners. A free emotional support animal letter may sound nice, but it has no legal worth. Doing things the right way isn't hard, especially now that CertaPet is here.
Save yourself the trouble of a fine and jail time by getting a legit ESA letter issued by a real licensed mental health professional!
Common Questions On a Free Emotional Support Animal Letter Online